BeFit Open Day 23 April 2022
By Paul Carless on 26 April 2022
My heart is full


We held our first open day at our new studio, BeFit, on Saturday.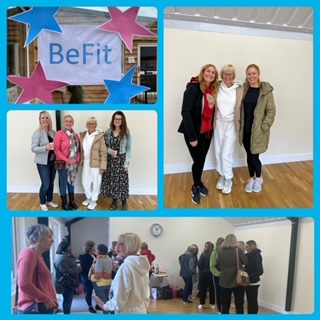 It was so lovely to see everyone who came along and wonderful to see people, I hadn't seen for over 2 years!

Thank you to everyone who came along and for the good wishes messages from those of you who couldn't make it.

There was such a lovely positive vibe in our new studio. Lots of chatting, laughing and catching up going on. I am so excited for a fresh start and new beginnings. My heart is full.

I am so excited for our new programs, courses and sessions starting next month.

If you have you promised yourself you will get fitter this year but haven't got back into exercising yet then we can help.

I have spoken to so many women who have struggled through the last 2 years of the pandemic and all the good health habits they had prior to that have gone by the way!

I totally understand that, as the last 2 years have been very challenging for me too. Seven months ago I was talking to my consultant about needing an operation for my shoulder injury! Seven months on, having spent that time working on my health and fitness, my shoulder has improved and I have prevented myself from having to have the operation in the near future! I can't tell you how much better I feel for it, both physically and mentally!

My passion has always been to help women be the best they can be and I'm more committed than I've ever been to help them get their mojo back. If you need some help finding your mojo, I can't wait to welcome you to BeFit!